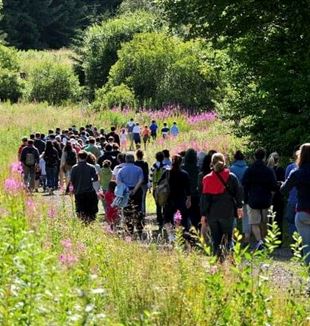 History of CL in the UK
In the United Kingdom, Communion and Liberation was born literally as movement, a back and forth of people. After a beginning dominated by 'chance' encounters, a new, local history began to blossom.
In summer 1979, by 'chance' in one of
London's
churches in Catford,
Heraldo
, a London born Engineering undergraduate, met a high-school student from Ancona, who was in London to learn English. A friendship soon flourished as the two began to help out with the music in the parish, and Heraldo gradually came to get to know more about CL. A few months later, Anna Maria, a
Memores Domini
from Italy, entered the church by 'chance' and saw the song booklets the students had prepared; the parish priest introduced her to Heraldo. Until her departure, Anna Maria's house became a reference point for the many students coming transiently to London, who began to meet for
School of Community,
for dinners, and to spend days together, often inviting those met at school or at work.
This seemingly banal pattern of 'chance' encounters began to repeat itself in the following years, in the mid-late 80s, in different places around the UK. Many students, from very different backgrounds began to
encounter the life of the movement, in chain of apparently 'casual' events.

In Cambridge, in 1985,
Ana Lydia
, a Brazilian
Memor Domini
novice, and
Ellis
, a
Memor Domini
from Turin sent by Fr. Giussani, together set up a small
Memores Domini
house that became a reference point for the many other students they would soon meet through
Fisher House, the university's Catholic chaplaincy.
Together with
Emilia
from Italy, they first met Canadian
John
and this friendship eventually began to grow, encountering new faces including
Stefano, Giuseppe, Mandy, Chris, Tom, Brígid, Chris K, Juliet, Joe, Daniela, Floriana, Alceste, François, Antonio
and
Eleanor
.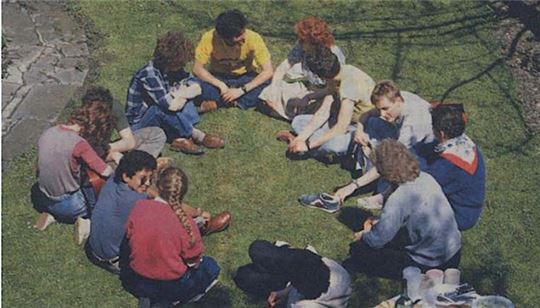 In Cambridge, all these students lived a vibrant and alive friendship rooted in community life at Fisher House, where they welcomed the visit of Cardinal Ratzinger in January 1988, and became close companions with
Philip Egan,
assistant chaplain at Fisher House, and now Bishop of Portsmouth. An essential part of
shared community life
was also the praying of Vespers together each evening; this began to shape the rhythm of the students' and community life, both nourishing and animating the friendship through the discovery that their small community belonged to a much wider experience of the church.
In the following years the community began to expand, apparently independently, in other English cities, specifically in
York
and London. History began to repeat itself in York in 1986 when
Gianmaria
from Italy, through the university's Catholic chaplaincy, met
Dominic, Jackie, Roger,
and then
John
and
Amos
. In London, Heraldo met
Pino, Justino, John C,
Fr. Bernardo and Fr. Lucio,
PIME missionaries, and many others.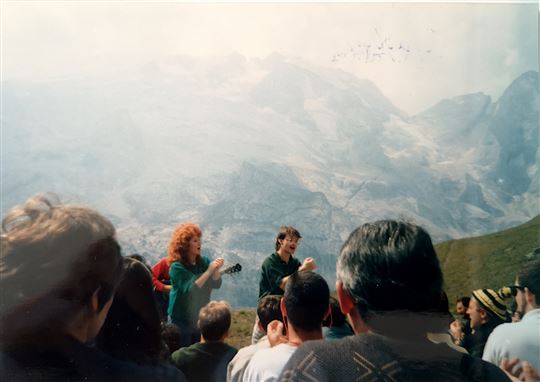 As well as sharing daily life in their respective cities, the young people spread between York, Cambridge and London soon began to meet amongst themselves increasingly more often, for assemblies, weekends, and attending the International Holiday each summer in Italy. There, they followed the lessons and assemblies led by Fr. Giussani and were exposed to a much larger community, allowing them to perceive how other students from different countries were living their studies as a community.
Towards the end of the 80s and the beginning of the 90s, those studying in York and Cambridge gradually gravitated towards London for work or further study; the London community thus began to increasingly evolve, as did a more adult, communal life.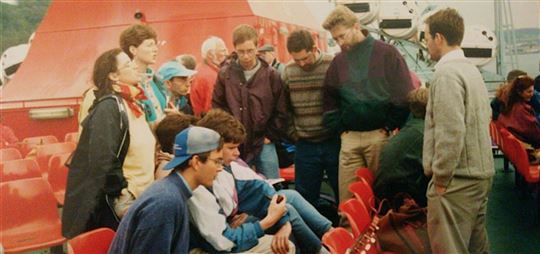 From the mid-90's, the UK CL community gradually began to plant its roots and flourish beyond London. Many couples got married, settling in Cambridge, London, and outskirts. In 1994, the first
Memores Domini
House was opened in Ealing in London, which soon became a point of reference for the growing community. This matured from a community of students and young workers who were coming and going, to a stable adult community. As the community began to expand, it started to organise its first summer holiday – a tradition that has continued over the years.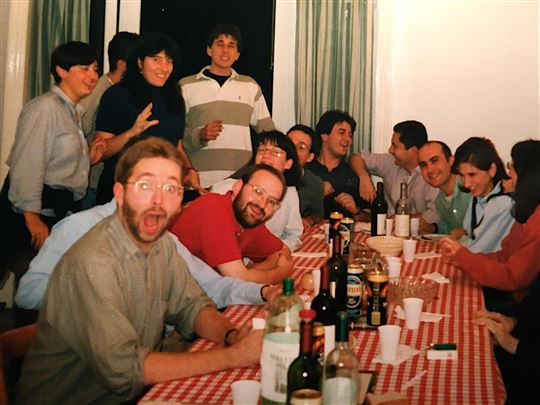 Towards the end of the 90s, high school students coming from Milan to attend school in London met
Fr. Christopher Hamilton-Grey.
Originally raised a Mormon, Fr. Christopher converted to Catholicism in 1996 at the age of 37. Friendship with the community, particularly with the
Memores Domini,
began to flourish when Fr. Christopher was called to celebrate mass for the anniversary of Fr. Giussani's death some years later. Fr. Christopher's openness and availability became a great gift for many and he became an important point of reference and guide for the community. In September 2010, Fr. Christopher was diagnosed with terminal cancer, after which he sought permission from his bishop to permanently live with the
Memores,
who accompanied him until his death in November 2012.
In recent years, the community has been accompanied by priests of the
Fraternity of St. Charles Borromeo.
In 2013,
Fr. José Clavería
(Pepe) moved to the UK and was eventually asked by Bishop Philip Egan to care for the parish church of St. Edmund Campion, Maidenhead. Following Fr. Pepe's departure in 2017,
Fr. Luca Speziale
and
Fr. Raffaele Cossa
began their mission in the UK: since September 2018, they have been entrusted with care of the parish district of Saint Swithun Wells and in September 2019 were joined in Eastleigh by
Fr. Marco Vignolo.
Since January 1990, a large number of works by Fr. Giussani and Fr. Carrón have also been published in English in the past decades. Original translations of the three volumes of Fr. Giussani's trilogy were published at the end of the 90s, and have been publicly presented in London. The UK community's first public gesture was the presentation of Fr. Giussani's
The Religious Sense,
followed by the presentation of the next two volumes,
At the Origin of the Christian Claim
and
Why the Church?
. Subsequent book presentations included Fr. Giussani's
Risk of Education
, the first and second volumes of
Is it possible to live this way?
, Fr. Carrón's
Disarming Beauty
alongside Dr. Rowan Williams, and an online presentation during the Covid-19 pandemic of Fr. Carrón's book
Reawakening Our Humanity.
Throughout the years, book presentations have always provided a means for the community to enter into dialogue and foster a friendship with intellectuals and members of the clergy, including
Fr. Ian Ker
, Cardinal Cormac Murphy O'Connor, Bishop John Keenan, Bishop Mark O'Toole,
Professor John Milbank
and particularly Dr. Rowan Williams.
Growing friendship and companionship with friends of CL led
Dr. Williams
to accompany the UK community to Rome in 2015, to attend
Pope Francis' Audience
with the movement of Communion and Liberation in St. Peter's Square on 7 March 2015.
Another event of particular significance for the CL community, was the beatification and recent canonisation of
St. John Henry Newman.
During Pope Benedict's XVI'S Papal visit to the UK in 2010, members of the community closely followed the Pope's movements, travelling by night on pilgrimage to participate in
Newman's beatification mass
in Birmingham. In response, individuals from the UK community took up study of Newman, the outcome of which was an exhibition entitled
"The certainty of Newman: Conscience and Reality"
, organised for the XXXII edition of the
Rimini Meeting for friendship among peoples,
and presented around the UK.

At present, there are members and communities of CL, comprising of adults, university and high school students, spread throughout the UK, focalised in larger communities in Scotland, the North of England, the Midlands and in the South of England. There are currently three Memores Domini houses in London.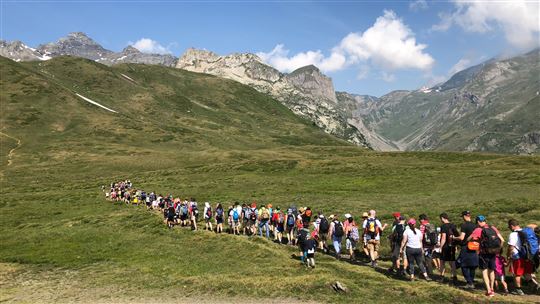 Photo Gallery

Book presentations
Presentation of 'Why the Church?' with Stratford Caldecott, Dwight Longenecker, Javier Prades López, and Christopher Morgan, November 2004

Presentation of 'Is it possible to live this way?' Vol. 1 with Fr. Carrón, Cardinal Cormac Murphy-O'Connor, and Marco Sinisi, November 2008

Presentation of 'Is it possible to live this way?' Vol.2, with Fr. Carrón, Bishop Mark O'Toole, and Marco Sinisi, London, July 2009