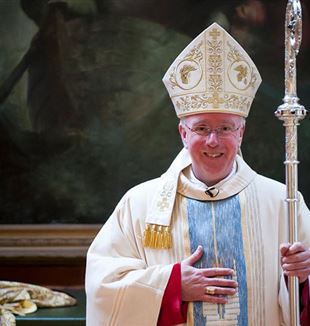 Bishop Egan: "Great Britain, start afresh from the good news"
The Bishop of Portsmouth reflects upon this historic moment in the United Kingdom. From Brexit to secularization, the bitter observation that so many people live in ignorance of the Gospel. The greatest challenge? "To rekindle the religious sense".
British Prime Minister Theresa May, struggling with the puzzle of negotiations for the implementation of Brexit, has found the time to establish the new "ministry for solitude". In Italy, the news was greeted with a certain hilarity but, beyond the terminology, the social and health care phenomenon will touch 9 million people in the United Kingdom. "It is the tip of the iceberg," comments Monsignor Philip Egan, Bishop of Portsmouth, an English diocese west of London, with two and a half million inhabitants and 220,000 faithful Catholics. Egan's is a privileged point of view, far enough away from the all-important dynamics of the British capital, from which one can perceive the problems and opportunities for English Christians today.
The Bishop of Portsmouth, in recent years, has had the opportunity to learn about CL in Britain and, after the departure of Fr. José Claveria, who was a parish priest in his diocese for a few years, he asked - and obtained - two new priests of the Fraternity of St. Charles (Raffaele Cossa and Luca Speziale). "I am very impressed by Communion and Liberation," he confided: "And I am eager to support its work, its mission in our Diocese, because, for me, it is exactly the kind of reality that helps people to reflect upon the reality of their lives and upon the person of Jesus Christ."

The United Kingdom is going through a particular moment in its history. What challenges is the Church facing in your country today?
Yes, the country is in a time of great change. When I walk around Portsmouth, I see more and more homeless people. People are losing their jobs, more and more people are forced to resort to institutions that distribute food. I cannot remember a situation like that. Yet, for me, the key challenge remains the spiritual one: the challenge of consumerism and secularisation that takes religion out of public discourse. The big question is how to rekindle the religious sense of individuals and families, to strengthen the Christian heritage of our country? There is enormous ignorance from a religious point of view, especially amongst those who deal with public affairs and sometimes even amongst politicians. Our task is to help people to encounter Jesus Christ and strengthen their faith. This will help the rebirth of the United Kingdom.

In your last pastoral letter, you write that the first level of evangelization must be done among Catholics. What do you mean?
We believers always need to be educated in faith, this is necessary to be able to bear witness to the Gospel to everyone: it is like inhaling and exhaling. On the one hand, we know that in my diocese 87% of Catholics do not practice their faith. It is, therefore, a matter of re-announcing the faith to those who have abandoned it. On the other hand, we want to address the other 3 million people who are non-believers. It is an enormous challenge. Everyone has his or her own relationship with God, which is known only to Him. But it is evident that so many people live in ignorance because no one effectively announces the Gospel to them. Sometimes it happens because in the Church we are caught up in internal debates, important but not decisive ("should priests marry?", "should Mass be said in Latin?"). The main mission of the Church, instead, is to proclaim the Good News. To ourselves and to others.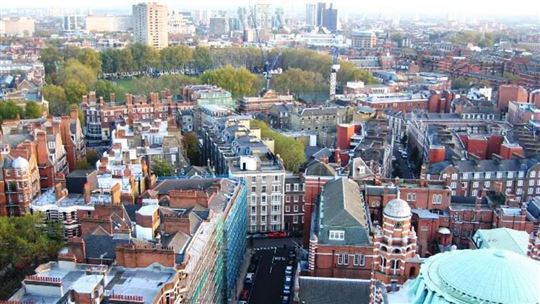 You often repeat that today's world is dominated "by the scientific use of reason". Why is that a problem? And is it also a problem for Catholics?
If I go to a normal Catholic school and ask: "How can we be sure of anything?", the answer would be that science provides us with the truth. While religion is considered a "personal opinion". This is the common mentality, even amongst Catholics. I have nothing, evidently, against science. On the contrary. The conquests it provides us with are wonderful. But it does not exhaust the knowledge of man and does not provide us with happiness. That is why the Catholic vision does not propose a binary choice: either science or religion. We need ethics, music, poetry, love. These are all forms of human knowledge and activity. Why not consider them?

It is difficult, however, for this issue to enter public debate.
Yes, there is not enough talk about it. The media usually plays the atheist scientist against the fundamentalist believer. The debate will certainly be fun for the viewer, but a deeper dialogue is needed to understand the factors at stake.

The use of reason is one of the topics of Julián Carrón's Disarming Beauty
Yes, one of the book's fundamental theses is that Europeans are, in a way, disconnected from reality. I find his reflection upon reason in the post-modern European context very enlightening. He addresses the issue of human freedom and our commitment to reality through reason. It strikes me that Carrón emphasises that, in the end, Jesus is the only one who allows us to truly engage with reality. I come from a different background: Carrón has Giussani, I have the Canadian theologian Bernard Lonergan, but I found many of his observations useful and in tune with my sensitivity. Even if the thing I have most appreciated about that book is the speech about the religious sense.

Everyone has his or her own relationship with God, which is known only to Him. But it is evident that so many people live in ignorance because no one effectively announces the Gospel to them.

Why?
As Catholics, we are often very good at catechizing and giving information. The liturgy becomes prolix, the symbols unclear. But awakening the religious sense is something else.

Which aspect of Pope Francis' teaching do you consider most challenging?
I love Pope Francis' frankness and his emphasis upon the person and our need to go out to meet people on the peripheries. I also find the Laudato si' great: we needed a document that would unite Catholic thinking upon environmental protection and Francis' prophetic vision of a conversion to a more sustainable lifestyle. In the first years of my episcopate, Evangelii Gaudium was very useful to me; it is a very wise text, full of practical ideas, which invites us to move from maintaining "what we have" towards the mission of evangelization.

What helps you most to live your life as a Bishop?
Eucharistic Adoration. In the morning, to be with Jesus Christ in the Holy Eucharist for an hour or more. I get up very early and recite the prayers of the Divine Office. Then I do an hour of Adoration and say Mass. I do not know how any priest can survive without having time for the Lord every day. A bishop, and it is beautiful and difficult to be a bishop, is unable to face anything without knowing that the Lord is near him, and that he is on his side. And the only way we can appreciate this is to spend time with Him. When I was ordained bishop, I chose as my episcopal motto In corde Jesu, in the heart of Jesus.

A bishop, and it is beautiful and difficult to be a bishop, is unable to face anything without knowing that the Lord is near him

How would you describe your personal relationship with Jesus?
It is first and foremost a friendship. It grows through study, Lectio Divina, prayer. This is how we meet His person. Then there is also the awareness of being a successor of the apostles: it is a call to be with Him in terms of responsibility towards the faithful, especially priests, deacons, the people entrusted to me, as pastor of a flock. It is the awareness of acting in persona Christi, of being in Christ, in His shoes, of being a sinner, and aware of the need for grace and forgiveness, but also to be His hands and feet, His ambassador for others and for the world.