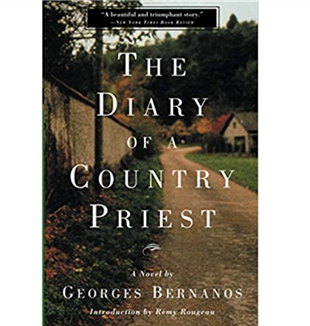 The secret
A glimpse into Georges Bernanos' novel which is proposed for summer reading. The moving account of the life sickly parish priest in a rural community in Northern France who "accepted the terrible presence of the divine in every instant of his poor life."
Translated from the June issue of Tracce.

A young priest is sent to be a parish priest in the small French village of Ambricourt. His actions, full of humanity and faith but strongly contrasted by the meanness of many of his parishioners, are narrated in a diary he kept until his premature death. The plot of the novel is therefore simple, almost elementary, but only on the surface.

In fact, anyone approaching Georges Bernanos' book today must rid themselves of at least two prejudices. The first is that it is a book set in the countryside that has now disappeared and is of little interest. On reading it, however, one realises that the context, mutatis mutandis, is very similar to that of today. Meanness, boredom and, above all, an immense and masked loneliness prevail in the priest's fellow citizens, not only in regards to the Church, but to existence. What is the difference if we look at the lives of so many of us Christians today?

But here lies the second misconception: that the book recounts life as a failure. From the seemingly dominant sadness, signs of something different continually emerge. When the priest visits the countess and discovers the great baseness of an apparently respectable family, he exclaims: "Our hidden sins poison the air which others breathe." And in the dialogue, a miracle takes place: the noblewoman reveals that the origin of her cynicism lies in her great love for a man who died prematurely, and for the first time she accepts her fate and dies reconciled to life.

Within the diary is a man who in his daily life "once and for all accepted the terrible presence of the divine in every instant of his poor life." In the cancer that led to his death, we see a life that had become a mission; for example, when he asks for absolution of his sins from a former seminary companion, afflicted by tuberculosis and who had left the priesthood. It is not just self-denial or sacredness, it is much more than that, as is clear from the Easter sermon: "It is not my fault that I am dressed like an undertaker. After all, the Pope rigs himself up in white and the cardinals in red […] But I'd have the right to go around adorned like the Queen of Sheba because I'm bringing you joy." That strange joy that brings faith even in pain, the same joy that I found in a note from my grandfather twenty years after his death: "In my love for Jesus and Mary I have found the strength to continue almost joyfully in my life that is full of struggle, of conflict, of suffering and also of beauty". This is the secret of my grandfather and Bernanos' parish priest, and is the hope for each of us.