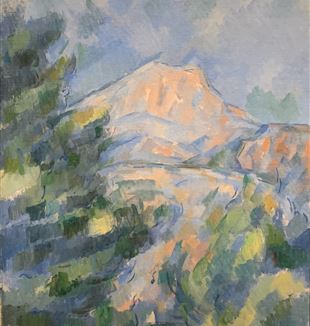 Cézanne becomes Cézanne
Blanca recounts how an exhibition of paintings by Paul Cézanne allowed her to rediscover how humanity flourishes within a relationship.
Last week I went to see Cézanne's exhibition at the Tate Modern in London. The exhibition gathers together various works by the artist, showing his journey through life and his artistic progression. Paul Cézanne had a close friendship with a fellow artist, Camille Pissarro, and the novelist Emile Zola. His friendship with them was a source of learning and inspiration for him, and their influence saw his paintings evolve from dark, violent, thickly-painted compositions to a more colourful, softer and considered style. Pisarro and Cézanne worked side by side, learning by watching each other paint. Pissarro, nine years older than Cézanne, was like a father to him. I was touched by this "learning by watching" within a relationship that shapes you in the uniqueness you embody. In fact, it was through closeness to Pissarro and his style that Cézanne discovered his own unique way of expressing sensations, adopting, for example, a lighter and more colourful palette.

I felt the contrast with the current society in which learning has become an individual and self-sufficient task. I see this at work, especially in the youngest generations, who barely have questions and whose learning is reduced to what they can find out, mainly from the internet, and on their own.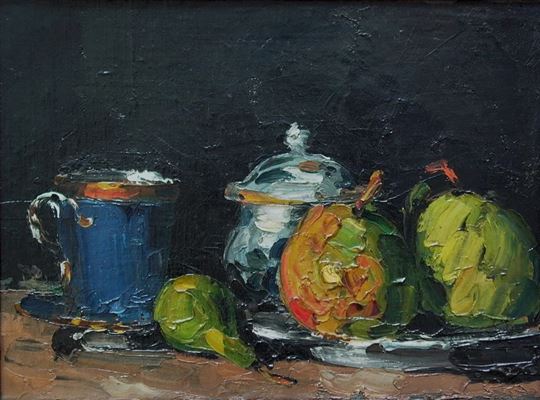 Cézanne's still life paintings are also a good example of how much the painter absorbed by sharing his art with his friend. The more I observed Cézanne's apples, the more they caught my attention, as his still life paintings become so alive thanks to the use of colours that create depth and realism . Rainer Maria Rilke said: "With Cézanne, fruits cease to be entirely edible, they become such very real things, so simply indestructible in their obstinate existing".

Cézanne spent long periods with his friends in Paris; however, he enjoyed going to Aix-en-Provence, where he found his biggest inspiration and where he decided to spend most of his time. His paintings of the Mont Sainte-Victoire, which he painted multiple times and from different angles, showed how the "learning by watching" acquired in those dear relationships became a method of contemplation. Paintings from that period are full of colour and detail, drawing the spectator into the infinite of the instant. Whether we like it or not, reality is there for us, to be contemplated and lived, passionately, especially within a relationship where our humanity flourishes and shines in its uniqueness, so that it can be shared with the whole world.

Blanca, London