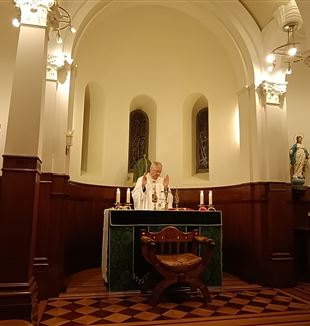 "His whole existence radiated a real acquaintance with Christ"
The homily of Leo Cushley, Archbishop of St Andrews and Edinburgh, during Mass for the centenary of Fr. Giussani's birth. Tuesday, 22 February, Edinburgh.
My dear friends,

Auguri a tutti del Movimento! Having said that, as you know, today's not quite his actual birthday – 15 October – so we're gathered here tonight to anticipate or to celebrate the centenary year of the birth of Fr. Luigi Giussani, priest both Ambrosian and Roman, and founder of Communion and Liberation.

Achille gave me Fr. Giussani's biography in 2018 – è un mattone, 1,400 pages long – but I've dipped into it from time to time, and it's a wonderful recourse to get to know a man I only saw at a distance over the decades when I was a student in Rome, and he was a famous friend of John Paul II. He couldn't be described as a very handsome man, but he clearly had a very attractive personality, because his whole existence radiated a real acquaintance with, and an affection for Christ.

I read a couple of years ago something that struck me: "young people nowadays aren't acquisitive – they're not so interested in having things as in having experiences". I've often returned to this kind of Sunday Times long-read on a lazy afternoon assertion, and you can kick it around into a bad thing or a good thing But it's got I think a kernel of truth in it. I continue to wonder if today's young people truly are eager for experiences instead of things or stuff to own, and have instead stumbled upon a very important Christian principle: that faith is not about the acquisition of knowledge, about knowing stuff; it's about an event, an experience, it's about meeting Jesus Christ and how the encounter transforms me and gives meaning to my life. If what they say about young people today is true, then there's hope for the future. Luigi Giussani perhaps understood that too about young people: stuff doesn't matter; it's the experience of Christ that counts. It's that event in your life that liberates you and binds you to Him and to others of a like mind. Giussani said once, "Christ met my life and my life met Christ… Christ is the life of my life." What a lovely motto for our celebration, and a reminder of this extraordinary man and his refreshing, life-giving gift which directs away from mere stuff and to towards the event that transforms all others – meeting Jesus Christ, and Jesus Christ meeting us.

Have a wonderful year of celebrations, and God bless you all!