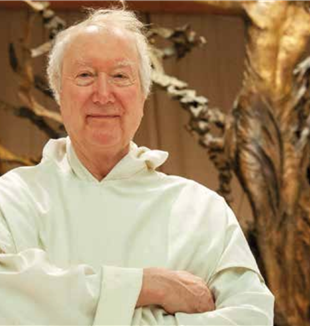 Face to face
A dialogue with the Dominican and biblical scholar Fr. Timothy
Radcliffe, who grapples with the present starting from Julián Carrón's book. Charity, the death of a dear friend, and the most
valuable lesson we can learn: "Always be grateful."
Timothy Radcliffe is a renowned preacher, writer, and theologian, a Dominican Friar at Blackfriars Oxford, former Master of the Order and Consultor to the Pontifical Council for Justice and Peace. We talked with him about his experience of the lockdown, and the Covid-crisis in general, in the light of what Fr. Carrón says in his book "Reawakening Our Humanity".

In the past months, billions of people have shared the same experience of 'imprisonment'. And yet, Carrón paradoxically argues, this prison can be a great opportunity of liberation.

I agree with Carrón completely. St Catherine of Siena experienced three years of self-isolation before the Lord propelled her out on her mission. She described her experience as entering into 'the cell of self-knowledge.' She was faced with who she really was. This was only bearable, she said, because the cell of self-knowledge was not narcissistic navel gazing. She discovered herself as loved into being at every moment by God. This experience of isolation may bring us face to face with reality, who we are. And if you are locked down with someone, you may discover how they are too. Superficial identities cannot easily be sustained. The masks we wear become start to tear. Either then relationships collapse and become unbearable, or with the grace of God we are brought face to face with the fragile vulnerability of both our own being and that of others. Then we may glimpse the person whom God loves, our own beauty and dignity and that of others.

Carrón talks about the value of 'embracing the circumstances', to "say 'yes' at every instant": but is this just a self-deluded way to cover one's resignation to the prison?

Quite the contrary. If one wants to be a force of good in this world, with the grace of God one must live here and now, in the present, which is God's present to us, and in the place where I find myself. The desert fathers knew that the temptation was to think that if I was somewhere else everything would be fine. Rowan Williams wrote of the delusion of thinking that 'somewhere else I could be nicer, holier, more balanced, more detached about criticism, more disciplined, able to sing in tune and probably thinner as well.' But desert fathers believed that it is here and nowhere else and now that one must live. Abba Moses said: 'Sit in your cell and your cell will teach you everything.' If we do not embrace our situation, we shall be like a bird which abandons her eggs and so prevents them from hatching. So if I want to change myself and make a difference to others, here is the place to begin.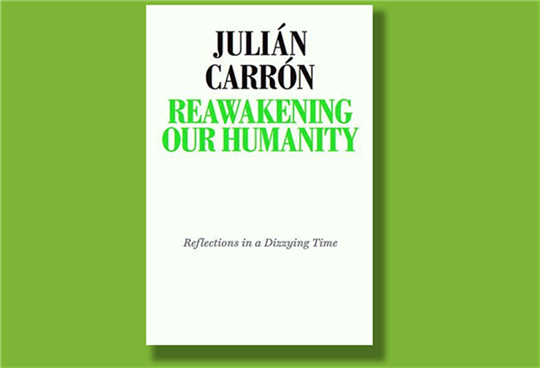 Carrón points out that "there is no opposition between faith and action". But how can one be 'active' or even 'charitable', if stuck in prison?

Faith does not mean resigning oneself to passive inaction. Sometimes what one can do seems small, but so is the seed that sower sows on the fertile ground and yet it yields 'thirty, some sixty, some a hundred times' (Mark 4.8). Our God is, Aquinas tells us, pure act. But often this is seen in small, even modest acts, talking to a woman at the well in Samaria, washing the feet of the disciples. Even the great ceremony of our death and resurrection in Christ, in baptism, is a modest act, the splashing of a little water. Our God is humble. Sometimes our faith does ask to be heroic as with the martyrs, but often to make small acts that escape anyone's attention. The last words of George Eliot's Middlemarch speak powerfully: 'The growing good of the world is partly dependent on unhistoric acts; and that things are not so ill with you and me as they might have been, is half owing to the number who lived faithfully a hidden life, and rest in unvisited tombs.' Our acts of charity in lockdown may also be humble. It maybe in phoning someone who feels lonely, or holding back the biting word which was on the tip of my tongue when one of brethren or your wife or husband says something hurtful.

Two young women are quoted by Carrón as examples of such a position: Mary and St. Therese of Lisieux.

Mary was indeed called to a sort of humility, to be the handmaid of the Lord. She bore the Word of God and served that Word in the child Jesus. But he was Son of the One whom she praised in the Magnificat, who has brought down the powerful from their thrones, and lifted up the lowly. This is a humble person who gave her fiat, her Yes, to the God who is turning the world upside down. And St Therese of Lisieux! I loved what Julián Carrón said about her as the patron of missions. In nineteenth century France, which was very anticlerical and often atheist, she dared to reach out to atheists and want 'to drink their bitter cup' and share their pain that she might share with them her hidden God. Her vocation was indeed transformative. Humility is not thinking badly of oneself. It is seeing oneself with clarity, acknowledging one's contingency, that one's very existence is a gift of God. It is only if one sees oneself with open eyes that one is will be able to change the world. To come back to Catherine of Siena, it was this freedom from illusions about herself that made her such a powerfully player in fourteenth century Italy, who summoned a Pope back to Rome and did not hesitate to tick off the Roman Curia in no uncertain terms. As she famously said 'If you would be the person you are meant to be, you could set fire to the whole of Italy.' She did!

Fr. Giussani says that "The truth of the faith (…) [is demonstrated] by one's capacity to make what appears to be an obstacle, persecution, or difficulty, into an instrument and moment of maturation." Does this also apply to the Church?

It has always been so from the beginning. The Holy Spirit was poured on the apostles at Pentecost and they sent to the ends of the world. But actually, they wanted to settle down in Jerusalem and resist the adventure. It was the persecution of Christians that finally dispatched them from their comfort zone and sent them even to Rome. It was the trauma of the Reformation that revitalized the Church and produced the Counter-Reformation. It is not yet clear how the Church will find new life through this present crisis, but surely it will. My hope is that it will release from our bubble, to use Carron's word, and bring us into dialogue with all those who deeply seek to understand the vocation of humanity today, even people whose faith is different or who do not believe at all.

What kind of companionship can the Church, and any Christian community, give in these difficult times?

This is a time of intense anxiety for many people. We must witness to the peace of Christ, a peace which the world cannot give. People can only attain that peace if there is someone to whom they can share their anxieties. Often all that the Church do is to be there and listen, to hold a hand, and let people pour it all out. Also, in times of plague, we are confronted not just with the death of individuals, but an apocalyptic sense that death rules. One thinks of the fourth rider in the book of Revelation: 'the pale green horse! Its rider's name was Death, and Hades followed with him.' We live under 'the shadow of death', as Zechariah says in the Benedictus.
We should be able to look death in the eye, register its pain and anguish, but not be intimidated for we believe that its rule is over. My closest friend in the Order died recently because of the coronavirus. He rang me to say goodbye. He said to a friend shortly before he died: 'I have been preaching the resurrection for years. Now is the time to show that I believe it.'

How are you living your own quarantine?

I was supposed to be on sabbatical at this time, and part of the plan was that, as well as study, I should have some time to be with my family and my friends. But, as we say in England, if you want to make God laugh, tell him your plans. After a month of study leave in the Ecole Biblique in Jerusalem, I came back to Oxford and since then I have been bombarded with requests for articles, homilies and interviews. Thank you for asking me! I am grateful for these opportunities to share my faith with others. The sabbatical can wait. Also, as I said, I have lost and buried my closest friend in the Order, who lived in Oxford. We joined the same day 55 years ago and went on holiday together every year. This has been a painful loss. When I shared this with another friend, a Polish Dominican who works in the Ecole Biblique, he gave me wise advice: 'Be grateful.' And perhaps this is the most profound lesson of this period. Always be grateful. Not that people whom I love have died, but that they ever lived. If our eyes are open, we are showered with gifts every day.