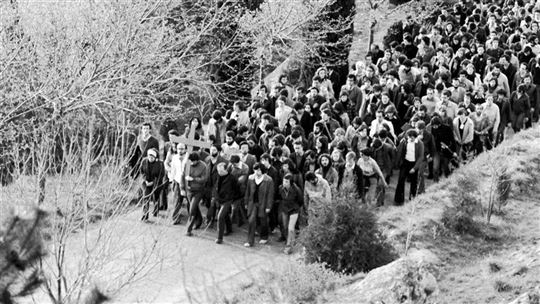 Way of the Cross 2022
Friday, 15 April 2022, 9.30 am, St Mary Moorfields RC Church, London
As in previous years, on Good Friday, we will have the opportunity to take part together in the walk that Jesus took in order to fulfil what the Father had asked Him for us.

"We cannot forget at what price we have been saved, every day. Sacrifice is not an objection, not even human defeat is an objection, but is rather the root of the Resurrection; it is the possibility of a true life. The event that reoccurs here and now and, if it is first and foremost a fact [...] It is a fact for you! For you, for me, for me! "For you" is the voice that springs forth from the heart of the Crucified One. "For me" is the echo of my heart that suffers, of my awareness that suffers. Everything would fall into death without this voice, without this Presence." (Fr. Luigi Giussani)

The Way of the Cross will take place in London on Friday 15 April.

We will start from St. Mary Moorfields, 4-5 Eldon Street, London, EC2M 7LS - (nearest tube: Liverpool Street or Moorgate) at 9.30am.

We have prepared a leaflet (please click here to download) as a tool to invite friends and colleagues.